Rolife Secluded Neighbour DS003 DIY Wooden Dollhouse
Brand:Rolife
Age Range(Description):14 years and up
Material:Wood,Paper-cuts,LED light,etc.
Theme:DIY Wooden Dollhouse
About this item
【ASSEMBLE BY YOURSELF】Our DIY dollhouse is made of plywood, solid laser precise cutting, perfect fit. It takes carefulness, patience to assemble step by step. Get your own detail-oriented and well-furnished tiny house.
【DETAILED MANUAL】Detailed illustrated English manual. We use real product assembly photos to guide you how to assemble each part. Easy to understand and follow.
【MENTAL UTILITY】This kit is filled with work of art and just beautifully designed with art in mind. It also give children a hands-on way to exercise their logic thinking and mental skills. Crafting and assembling this model kit is something you can be proud. Tremendous sense of accomplishment and you can show it off to friends and family.
【HIGH QUALITY MATERIAL】This is a perfectly designed DIY kit that requires your hands-on work to complete. This mechanical wooden puzzle toy uses precision laser cutting of high-quality plywood. Safe and environmental friendly, no peculiar smell. Take care of your family's physical and mental health.
【PERFECT GIFT】A best gift to someone special gift or home decor. Such as birthday/Christmas Day/Valentine's Day, and every happy sweet moment!
Description


ORIGINAL BRAND AND PRODUCT Rolife adheres to the original research and development concept and focuses on the Play-Brand of DIY models. Rolife insists on speaking to the world trends with China design, following cute and independent spirit to express the life attitude of the contemporary Chinese youth and recreate the new Ecology of oriental art toy.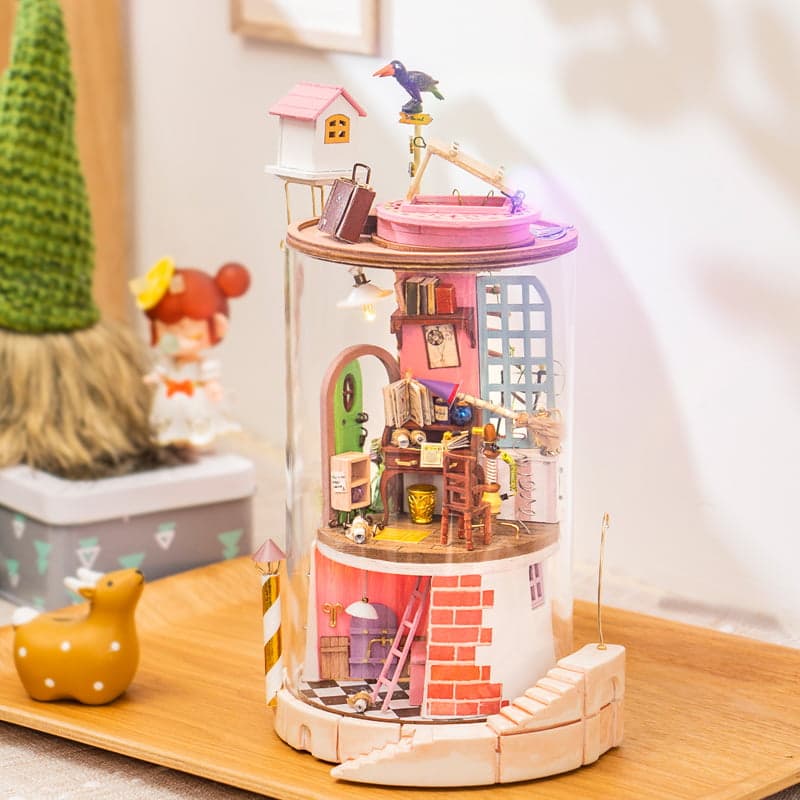 Rolife DIY Miniature Magic House series with a cover is a mini scale model house of delicacy. It includes 4 different house models, DS002, DS002, DS003, DS004. Building it invloves so many diy fun time including painting, sewing or even redecorating. When you finish it, it will be a eye-catchy display on shelf or desk.
Secluded Neighbour is inspired by all those astounding magic houses or cattles you see in movies and tv shows. Immensely detailed and impressively designed, the end result is a gorgeous loft that you may also use as an exquisite décor piece.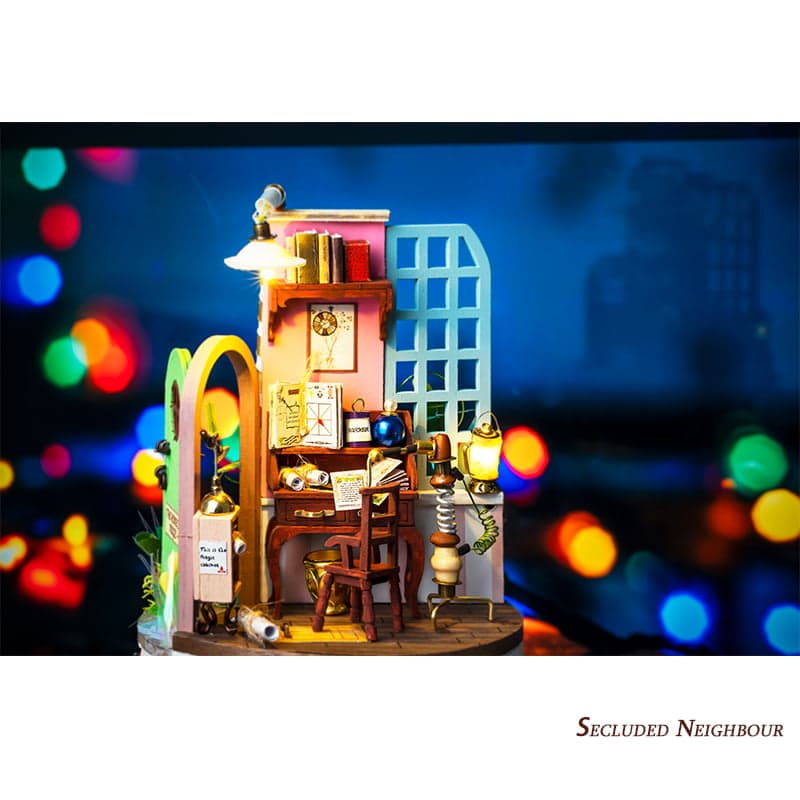 I fall into a deep well suddenly. Then my fall gradually gets slower and slower, and finally I fall softly on the meadow. I closed my eyes out of fear on the way down. And now I open my eyes, a transparent three-story house comes into my view. It seems like an old, simple and unsophisticated wood house with a big stone supporting. 
'Welcome, little boy wizard. Oh,watch your step. The magic house is hidden in deep well.' A high-pitched voice spreading form roof, which frightens me screaming. I look to the roof, there is a crow with arrogant but kind expression. So weird.
'Don't fear me my little wizard. You probably don't know me but I know you. I'm your secluded neighbour in the deep well as well as a faithful guardian of the magic house. And now, Destiny Boy, okay, what's your name?' 
'Bravery' I response without thinking.
'Thanks, dear. I have been waiting for you for a very long time. Just follow your good fate to be the master of the house. I know that you have a lot of questions.' He continues. 'The magic house is built by a great wizard. You can learn any magic here to protect this dreamlike and mysterious realm and help others. Please enter the room I will show you more marvelous stories.'
Here is a magic house deep in the well. Wow,that's so cool, I have a secluded neighbor. 
The Mr.Crow opens the door for me.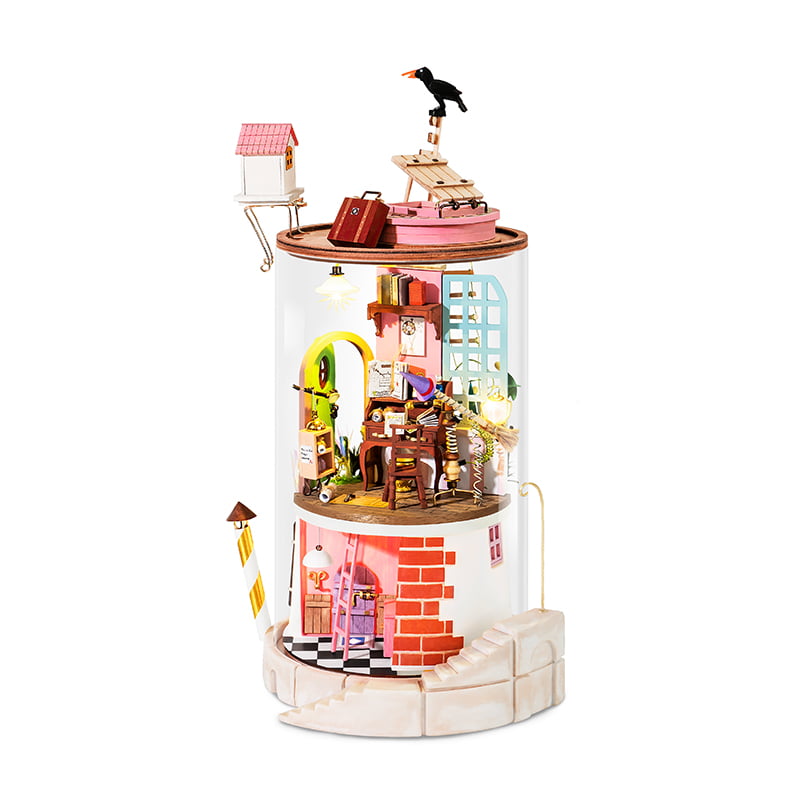 Intricate Design

: Grain dip-dyeing process. Remarkably detained and realistic. To make this wood craft kit look as realistic as possible. Light fixtures with tiny LED bulbs to illuminate each little room. This vibrant and cozy lighting will add the finishing touch to your room, table, shelf.



Creative Gifts

: Best gift to someone special gift or home decor. Such as birthday/ Christmas Day/ Valentine's Day, and every happy sweet moment!



Mental Utility:

 An interesting and engaging activity. It can develop mental skills and logical thinking. Enjoy the hearty decompression process in the cyclone brainstorming. Make this dollhouse with your hands with your friends and family, a perfect parents-child activity.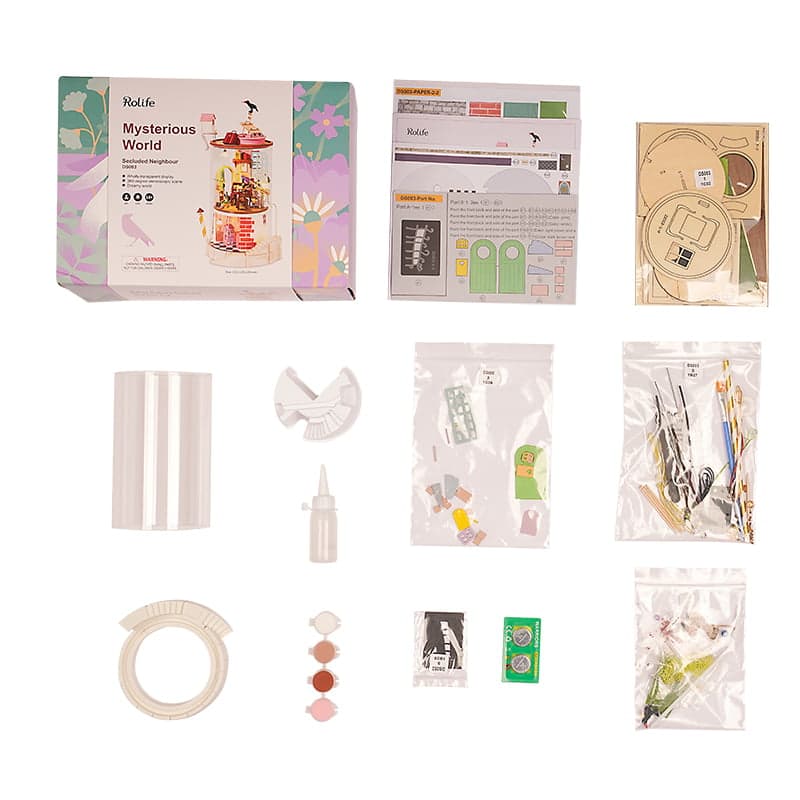 Ecofriendly Material
High-grade natural plywood
Laser-cut 
Safe and Enviromentally friendly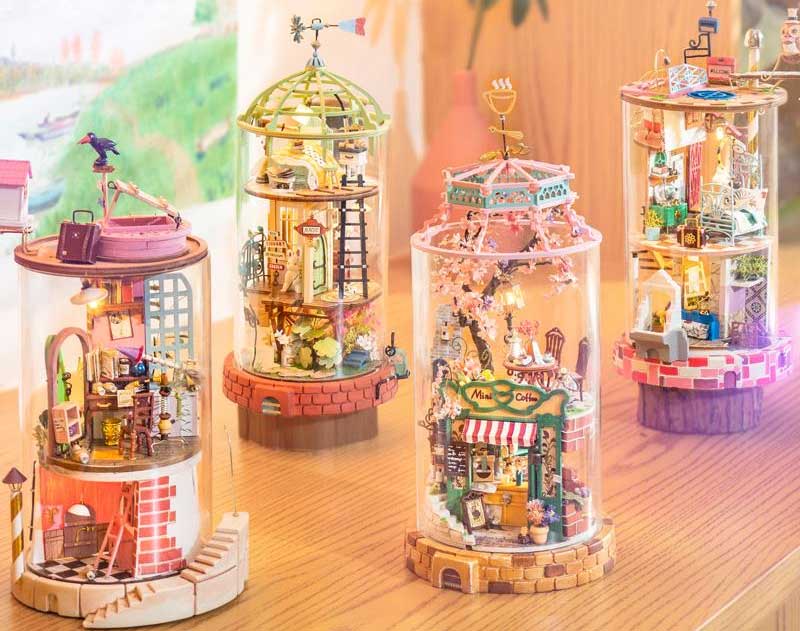 Package Dimensions: 288*207*123mm
Assembly Size: 125*130*245mm
Items Included: Plywood, Paper-cuts, LED light, Paint, Brush, Detailed english book and etc..
The Average Assembly Time: 24H
Item Weight: 850g
Wood Pieces: 135 pcs
Country of Origin: China
Manufacturer Recommended Age: 14 years and up
Manufacturer: Rolife