Rolife Sam's Study Library DG102 DIY Wooden Dollhouse
Brand:Rolife
Age Range(Description):14 years and up
Material:Wood,Paper-cuts,LED light,etc.
Theme:DIY Wooden Dollhouse
About this item
【ASSEMBLE BY YOURSELF】Our DIY dollhouse is made of plywood, solid laser precise cutting, perfect fit. It contains many accessories. Assemble it takes patience and care. Get your own detail-oriented and well-furnished tiny house.
【DETAILED MANUAL】Detailed and step-by-step illustrated English manual. We use real product assembly photos to guide you how to assemble each part. Easy to understand and follow. 
【MENTAL UTILITY】This kit is filled with work of art and just beautifully designed with art in mind. It also give children a hands-on way to exercise their logic thinking and fine mental skills. Crafting and assembling this model kit is something you can be proud. It brings tremendous sense of accomplishment and you can show it off to friends and family.
【HIGH QUALITY MATERIAL】This is a perfectly designed DIY kit that requires your hands-on work to complete. This mechanical wooden puzzle toy uses precision laser cutting of high- quality plywood. Safe and environmental friendly, no peculiar smell. Take care of your family's physical and mental health.
【PERFECT GIFT】A best gift to someone special gift, such as birthday/ Christmas Day/ Valentine's Day, and every happy sweet moment! It is also a perfect home/desk/office ornament.
Description


ORIGINAL BRAND AND PRODUCT Rolife adheres to the original research and development concept and focuses on the Play-Brand of DIY models. Rolife insists on speaking to the world trends with China design, following cute and independent spirit to express the life attitude of the contemporary Chinese youth and recreate the new Ecology of oriental art toy.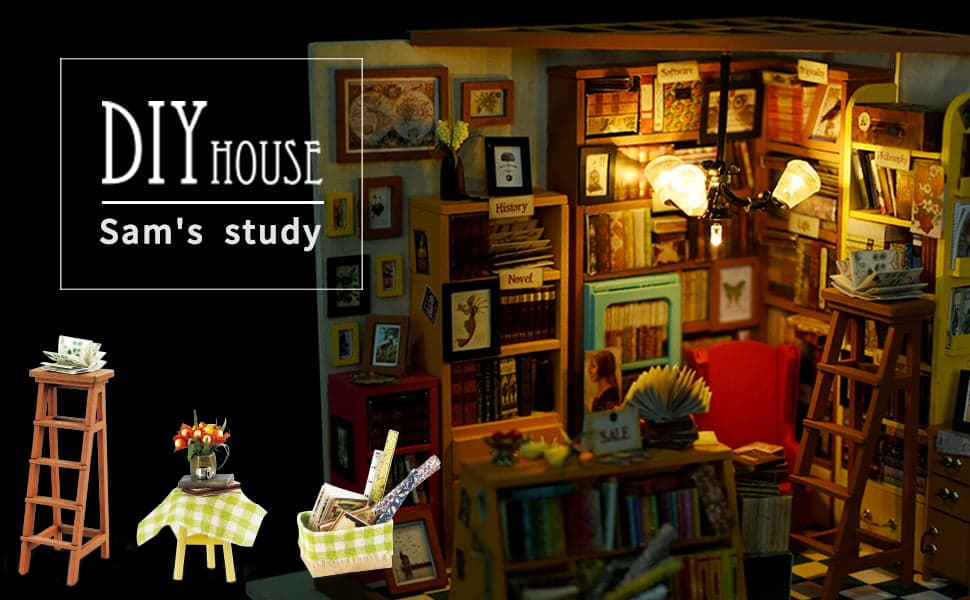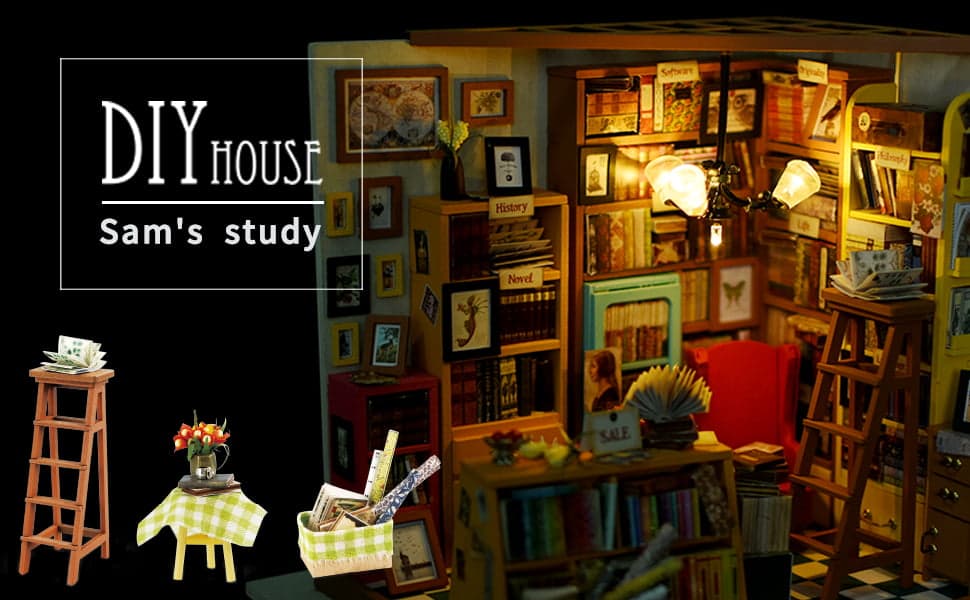 Are you a fan of detailed miniature hobby craffts? Or are you in search for the perfect miniature house DIY project? Well, the DIY 3D Puzzle Miniature House: Sam's Study Library by Hand Craft is your excellent choices.
Sam's Study is inspired by all those whimsial library or book stores you see in movies (Beauty & The Beast). Immensely detailed and impressively designed, the end result is a gorgeous library that you may also use as an exquisite decor piece. To make this wood craft kit look as realistic as possible, we include light fixtures with tiny LED bulbs to illuminate each little room. This vibrant and cozy lighting will add the finishing touch to your room, table, shelf, or showcase.
Sam said: The house has its own story. It just hides it like hiding a palm print. The unique story was written on a shelf in the corner, on pages of books, on a lampshade. Different people may get different answers.
Sometimes you may find the answer is high up which needs to take a ladder to get there. Sometimes, the answer is like a naughty child, and you can only perceive it with your heart.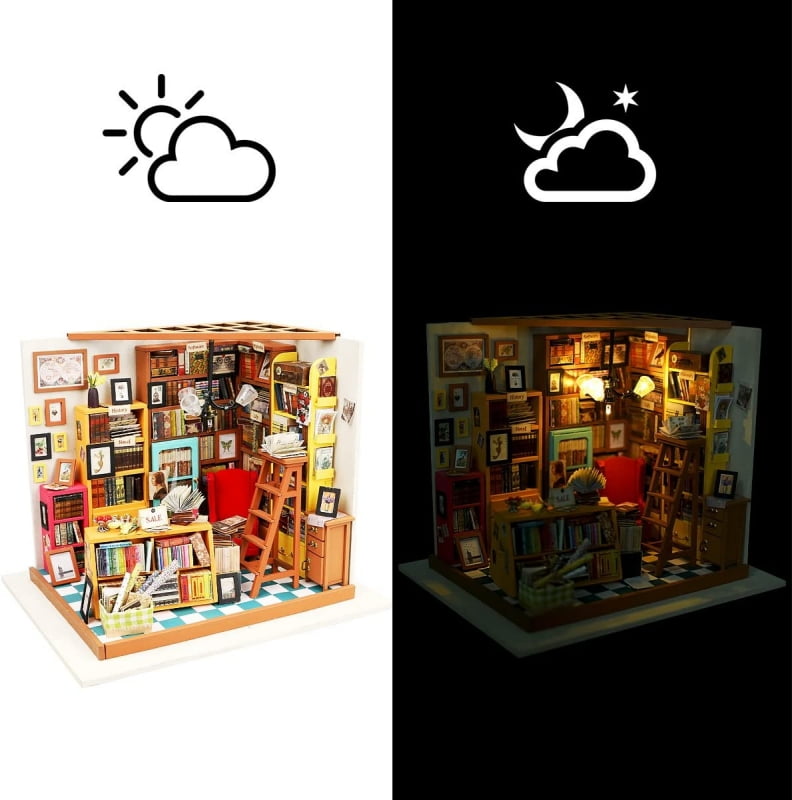 Sam's Study Library
DG102
Intricate Design: G

rain dip-dyeing process. 

Equipped with all the materials and tools you need to recreate shelves, books, furniture's. Detail-oriented and well-furnished. 

Remarkably detained and realistic.  


Mental Utility

: An interesting and engaging activity. It can develop your kids mental skills and logic thinking. Enjoy the hearty decompression process in the cyclone brainstorming. Make this dollhouse with your hands with your friends or family, a perfect parents-child eactivity.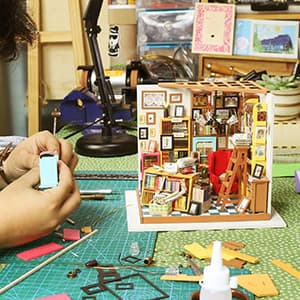 High-grade natural plywood

Laser-cut

Safe and 

Enviromentally friendly
Turn on the light. Take a cup of tea and sit down with warm soft light.
Read to relax your mind and enjoy a wonderful time.
All kinds of books, nice packaging and informative books. 
What's Included?
Tools Included:
Paint x 1

Paint Brush x 1

LED Light x 1

Battery for the LED Light x 1

Bottle of Glue x 1

Tweezers x 1
The average assembly time: 16H
Step-by-step Manual
Colorful English Instruction Book, detailed steps, intuitively and clearly guide you through the interesting DIY process, and experience the joy of DIY doll house!
Perfect Gift
Best gift to someone special gift or home decor. It will make a memorable gift that will be cherished forever. No one will refuse such a fairy house gift! Such as birthday/ Christmas Day/ Valentine's Day, and every happy sweet moment!
Package Dimensions: 319*207*54mm
Assembly Size: 185*225*190mm
Items Included: Plywood, Paper-cuts, LED light, etc.
The Average Assembly Time: 16H
Item Weight: 980g
Wood Pieces: 221pieces
Country of Origin: China
Manufacturer Recommended Age: 14 years and up
Manufacturer: Rolife