Rolife Emily's Flower Shop DG145 DIY Wooden Dollhouse
Brand:Rolife
Age Range(Description):14 years and up
Material:Wood,Paper-cuts,LED light,etc.
Theme:DIY Wooden Dollhouse
About this item
【ASSEMBLE BY YOURSELF】Our DIY dollhouse is made of plywood, solid laser precise cutting, perfect fit. It contains many accessories. Assemble it takes patience and care. Get your own detail-oriented and well-furnished tiny house.
【DETAILED MANUAL】Detailed and step-by-step illustrated English manual. We use real product assembly photos to guide you how to assemble each part. Easy to understand and follow. 
【MENTAL UTILITY】This kit is filled with work of art and just beautifully designed with art in mind. It also give children a hands-on way to exercise their logic thinking and fine mental skills. Crafting and assembling this model kit is something you can be proud. It brings tremendous sense of accomplishment and you can show it off to friends and family.
【HIGH QUALITY MATERIAL】This is a perfectly designed DIY kit that requires your hands-on work to complete. This mechanical wooden puzzle toy uses precision laser cutting of high- quality plywood. Safe and environmental friendly, no peculiar smell. Take care of your family's physical and mental health.
【PERFECT GIFT】A best gift to someone special gift, such as birthday/ Christmas Day/ Valentine's Day, and every happy sweet moment! It is also a perfect home/desk/office ornament.
Description


ORIGINAL BRAND AND PRODUCT Rolife adheres to the original research and development concept and focuses on the Play-Brand of DIY models. Rolife insists on speaking to the world trends with China design, following cute and independent spirit to express the life attitude of the contemporary Chinese youth and recreate the new Ecology of oriental art toy.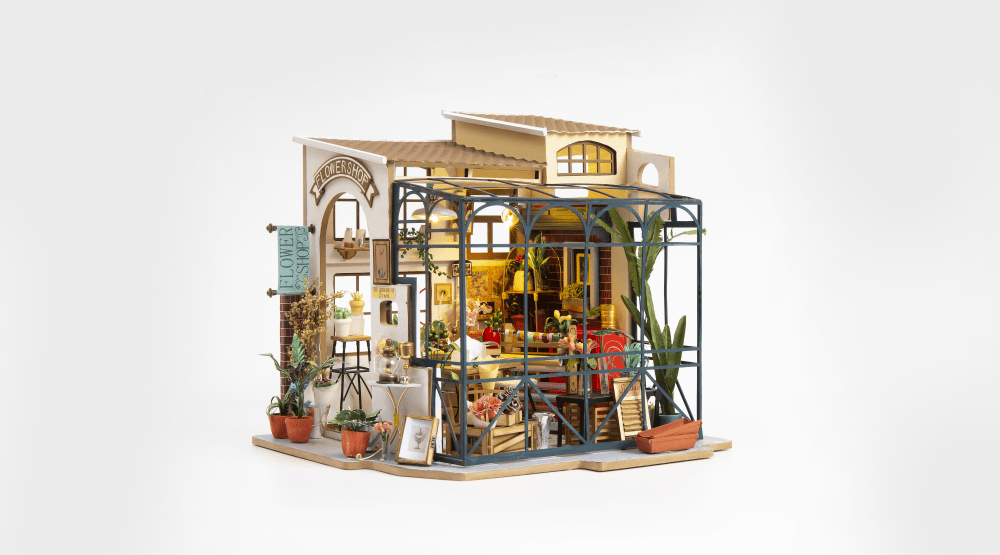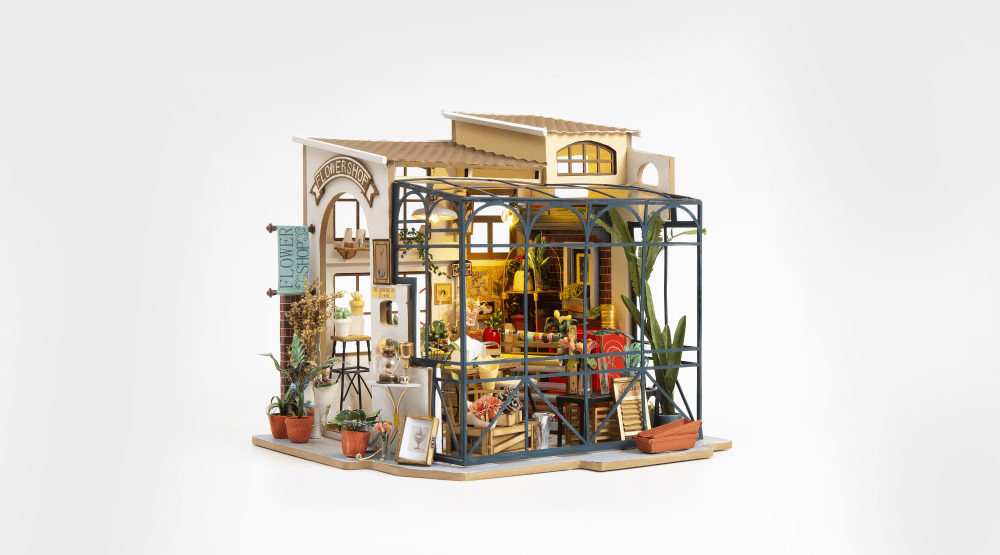 The "Happy Corner" series consists of three tiny houses,DG142, DG143, DG145. This series can fulfill your dream of operating your own shop.
Emily's Flower Shop is inspired by all those astounding fruit shops you see in movies and tv shows. Immensely detailed and impressively designed, the end result is a gorgeous loft that you may also use as an exquisite décor piece.
Hi, I'm Emily, a gardener and the owner of this flower shop. You can get any flowers here, but I only sell my beautiful flowers to a soul- flower lover. If you want to come here, be careful, because I may drive people away. I don't like people who doesn't like flowers.
A few days earlier, a middle-aged man hurried into the store and almost toppled over. He want to give dianthus caryophyllus to his Mom. A young cute girl asked me for a blue enchantress to her lover. I has been fascinating by the language of flowers. All the warmth of the world stored in flowers. The warm sunlight infuses full energy into my greenhouse. On the silent afternoon, I even can hear the sound of a flower blooming.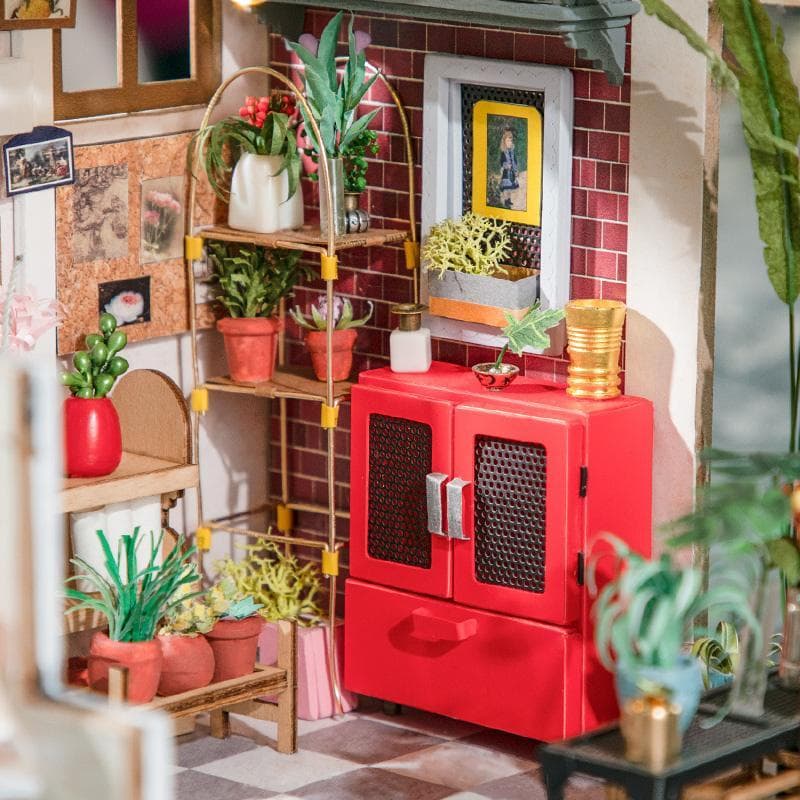 The warm sunlight infuses full energy into my greenhouse. On the silent afternoon, I even can hear the sound of a flower blooming.
A petal, a story, a fragance, a lifestyle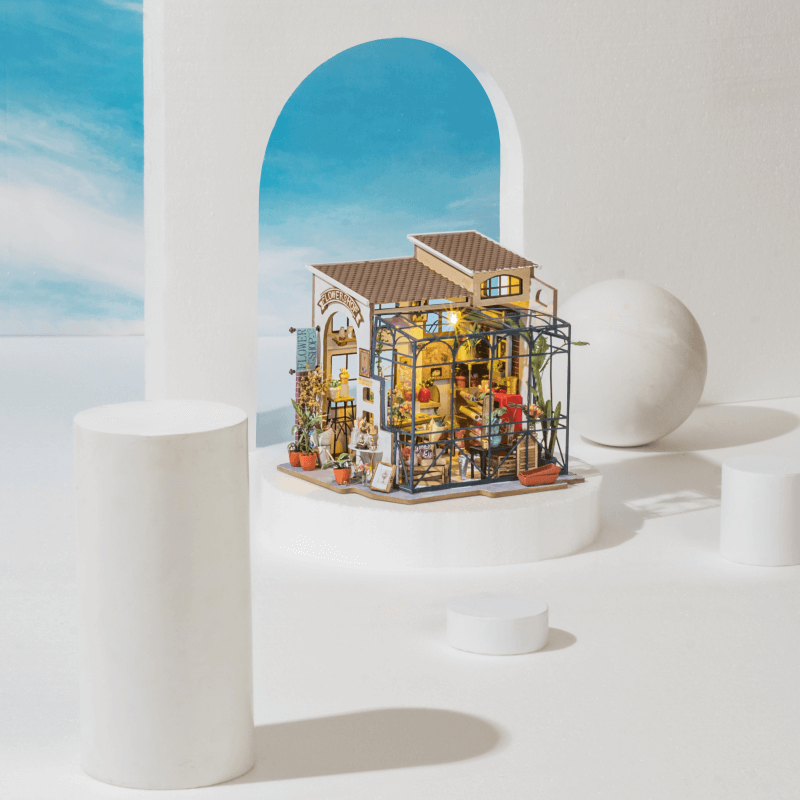 Carl's Fruit Shop
DG145
Mental Utility:

An interesting and engaging activity. It can develop mental skills and logical thinking. Enjoy the hearty decompression process in the cyclone brainstorming. Make this dollhouse with your hands with your friends and family, a perfect parents-child activity.



Intricate Design: 

Grain dip-dyeing process. Equipped with all the materials and tools you need to recreate your own flower house. Detail-oriented and well furnished.



Step-by-step Manual

: Colorful english instruction book, detailed and well-thought-out steps.



Perfect Gift

: Best gift to someone special or home decor. It will be a memorable gift that will be cherished forever.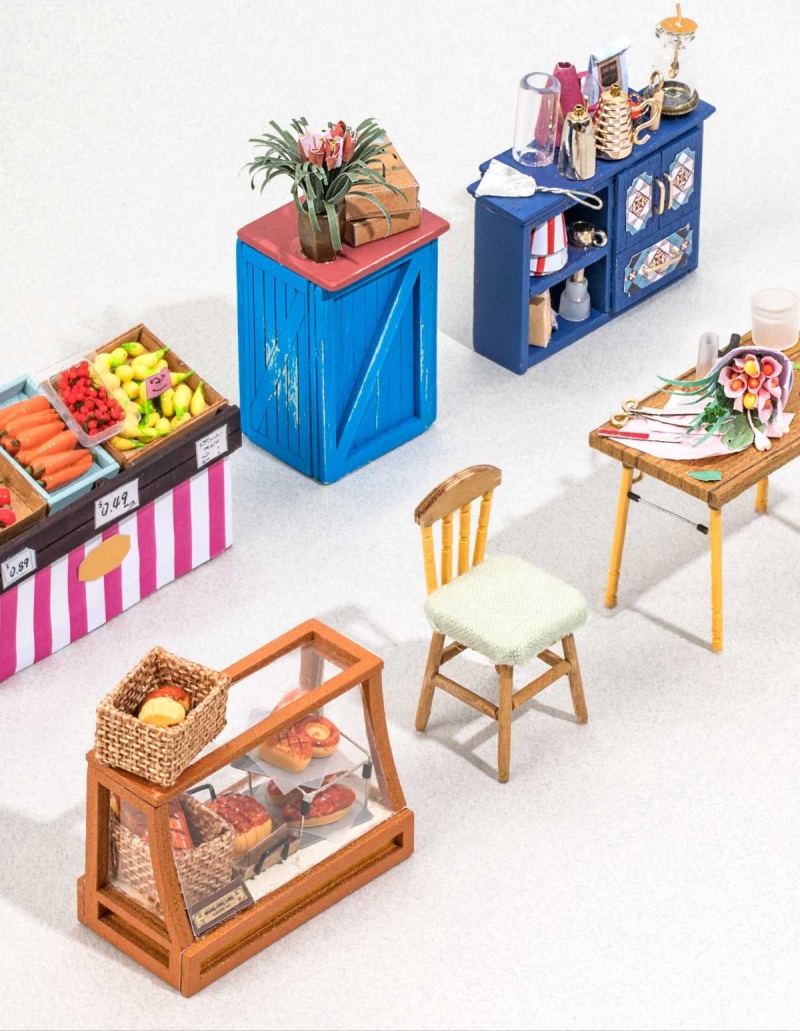 Ecofriendly Material
High-grade natural plywood
Laser-cut technology
All pieces are perfect match
Safe and Enviromentally friendly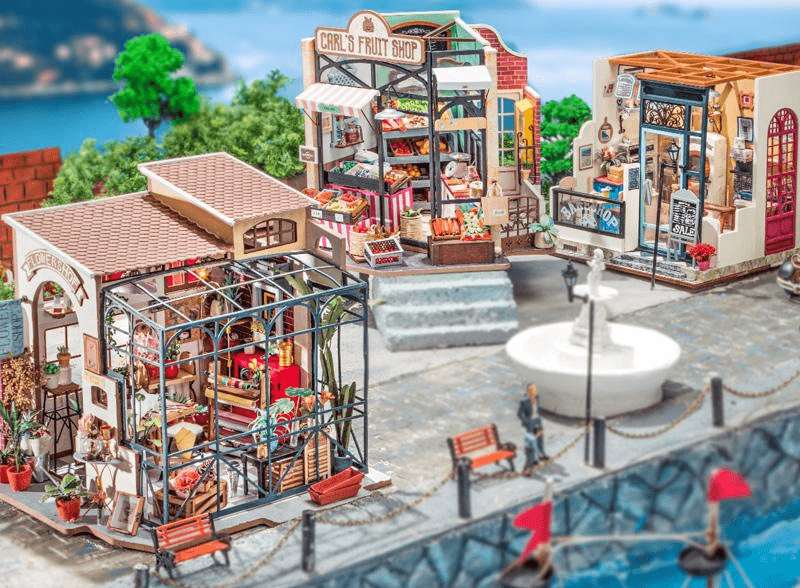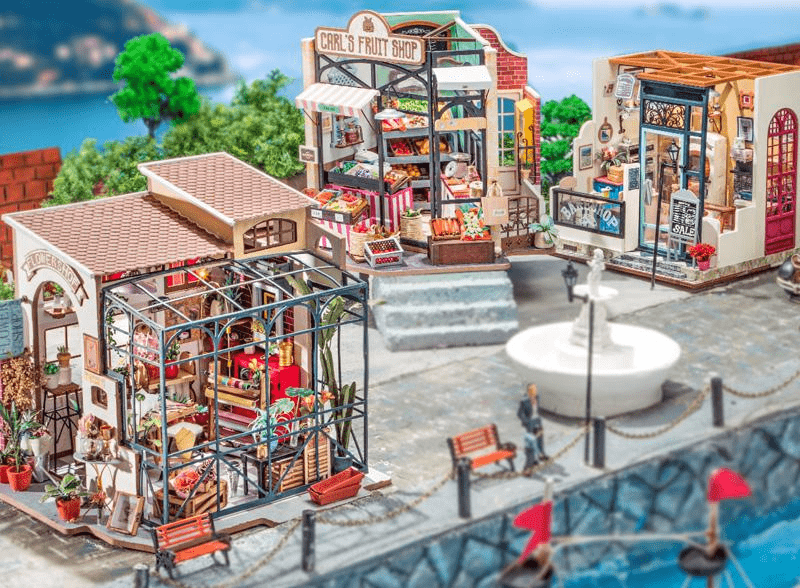 Package Dimensions: 324*210*74mm
Assembly Size: 220*190*210mm
Items Included: Plywood, Paper-cuts, LED light, Paint, Brush, Detailed english book and etc..
The Average Assembly Time: 35H
Item Weight: 1080g
Wood Pieces: 258pcs
Country of Origin: China
Manufacturer Recommended Age: 14 years and up
Manufacturer: Rolife