Double Joy Bubble Tea
The pink store named Double Joy Bubble Tea is the new arrival of Super Creator.
Making a traditional miniature house is a big process. You need to spend too much time with it, and maybe you will be annoyed by the glue and paper-cutting.
When you see the Super Creator, you will not worry about it for its insertion-design and various stickers. Easy light installing and smart battery box will give you some new experiences!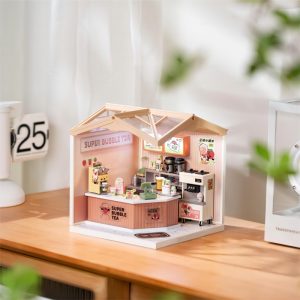 In modern society, the bubble tea has become the most attractive drink. And the bubble tea houses are everywhere to see. Drinking bubble tea becomes a habit for more and more people. Will you also have the idea of opening a bubble tea store? Now it's your chance!
The details you can see are exquisite so that it looks like a true bubble tea store.
The rotatable sealer with pink strawberry stickers can provide playability and it signs 0 sugar that accords with healthy life now! 
Look at the colorful posters. They are not only posters, but also LED backlit light box!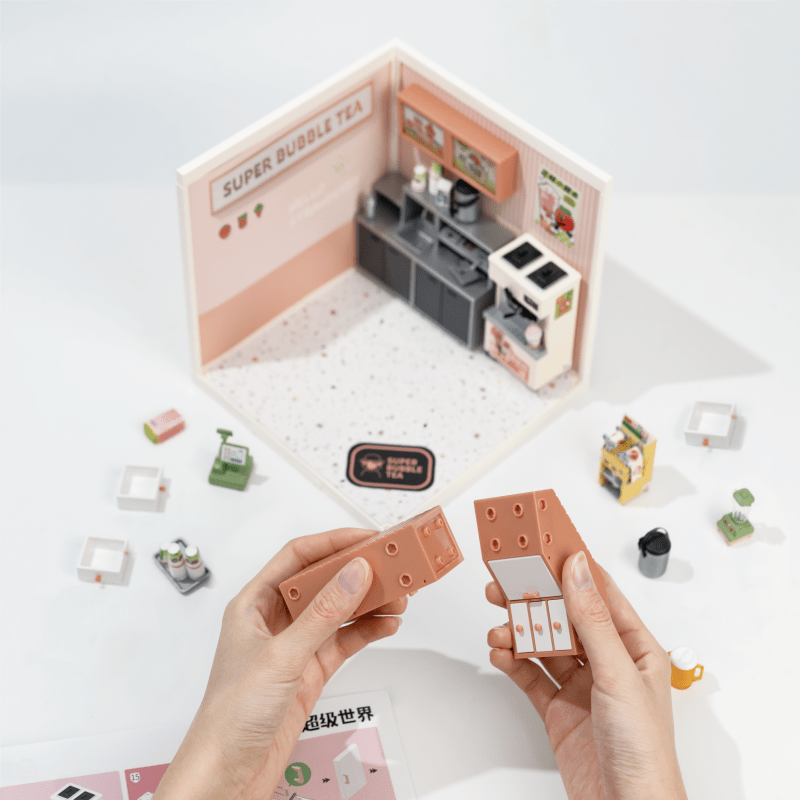 The insertion-design is easy for you to assemble!
Every parts that need to assemble together have protrusions and corresponding grooves. You can assemble them following the manual easily and stick these colorful stickers to suitable place, then you will finish your own bubble tea store!
As it is a plastic material, do not worry if the weight of it is too heavy to take. You can take it easily and put it anywhere in your home as a decoration.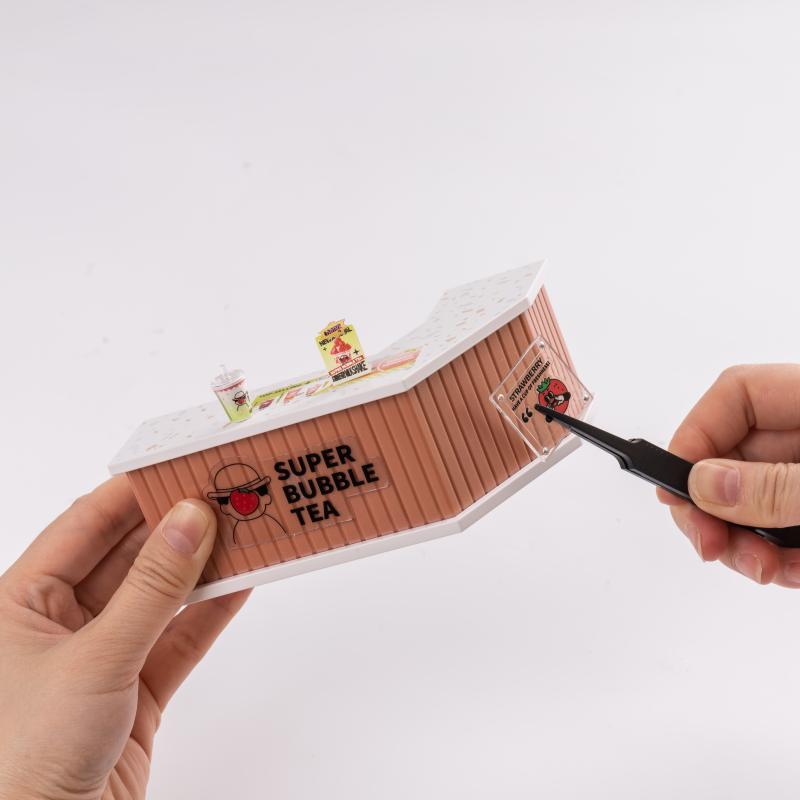 This is the back of bubble tea store and there is a smart battery box on it. You can touch it to turn on / off. Long press on the touch light can adjust its brightness!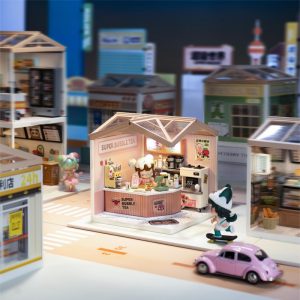 Such a figurine makes the bubble tea store real. You can find different looks of them on Rolife.
Imagine that you live in the Super World, a bubble tea store, a bakery, a book store, etc. These figurines are your friends and they run these stores at the business street. 
The wonderful world is in your heart, and now you have the chance to make it come true!
When you are choosing a gift for a girl, the bubble tea store is the best one. 
The lovely color, easy assembly and stickers, ingenious LED backlit light box give you an immersive time to enjoy yourself and follow your heart.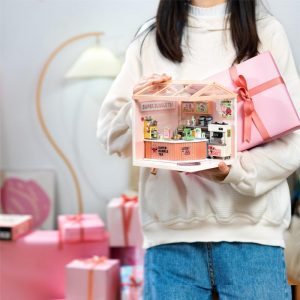 Each miniature house in the Super Creator Series can be assembled together like the pictures shown. 
The edges of the boards are equipped with connectors, supporting "—" horizontal stacking, "I" vertical stacking and "L" type.