Rolife Double Joy Bubble Tea DW006
Age Range: 14 years and up
Material : plastic
Assembly Time: 60min
Pieces: 130
About this item
There is a new store of super creator! Simple assembling and various stickers will allow you to create your own artwork in less time.  You can spend only 1 hour assembling this house for its insertion-design! You will get double joy for the delicate tea and ice cream of the fancy store. The LEDs will light up your darkened room at night! You can also connect Rolife Super Creator – Super Store Series to create different shapes.
If you like feeling cool, the bubble tea shop is just for you!
Description
This is a finished Double Joy Bubble Tea.
Imagine you are the owner of the bubble tea store, and you make the delicious bubble tea that so many people like it. The specialty of your store is the strawberry bubble tea! Therefore,the lovely pink is the main color of your store…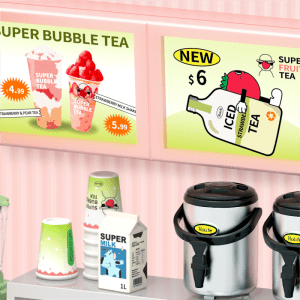 Look at the colorful posters on the left. They are not only posters, but also LED backlit light box!  You can see the specialty of the store, strawberry bubble tea, and any other new drink on it.
The sealer on the right can be rotated as the sealer has a gear to turn! And the little cup with transparent cover can be played.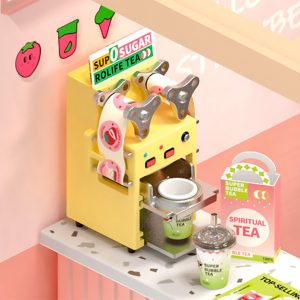 The ice-cream machine and ordering area are so exquisite that maybe you want to eat a real ice-cream now!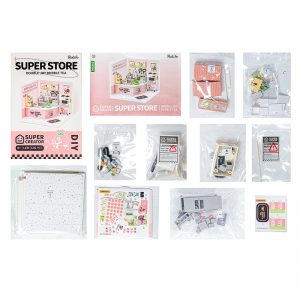 The insertion design makes it easy for you. You can assemble a vivid house easily in a short time, 1 hour!
This is a smart battery box. You can touch it to turn on / off. Long press on the touch light can adjust its brightness!
You can buy roof and dust-proof door separately to make your bubble tea store more fun.
The roof and dust-proof, which assemble easily, can keep your bubble tea store clean.
Each miniature house in this series can be assembled together like the pictures shown by above accessories.
The edges of the boards are equipped with connectors, supporting "—" horizontal stacking, "I" vertical stacking and "L" type. 
The package of our product is as shown. 
We will wrap the product carefully so that you will receive a perfect gift.