Rolife Falling Sakura 3D Wooden DIY Miniature House Book Nook TGB05
Assembly Time: 3h
Assembled Size: 101*187*242mm
Application: Gift-giving, collection, decoration
About this item
【Miniature Book Nook】Rolife Falling Sakura 3D miniature book nook series are designed with exquisite details into mini scale models.
【High-Quality Material】 This 3D DIY house toy uses precision laser cutting of high- quality basswood. 
【Ideal Gift and Fine Ornament】This is an amazing gift for any occasion. 
【Matters Needing Attention】Be careful to connect the parts in a complete and solid way to ensure that it runs well. Don't put it in a wet place.
Description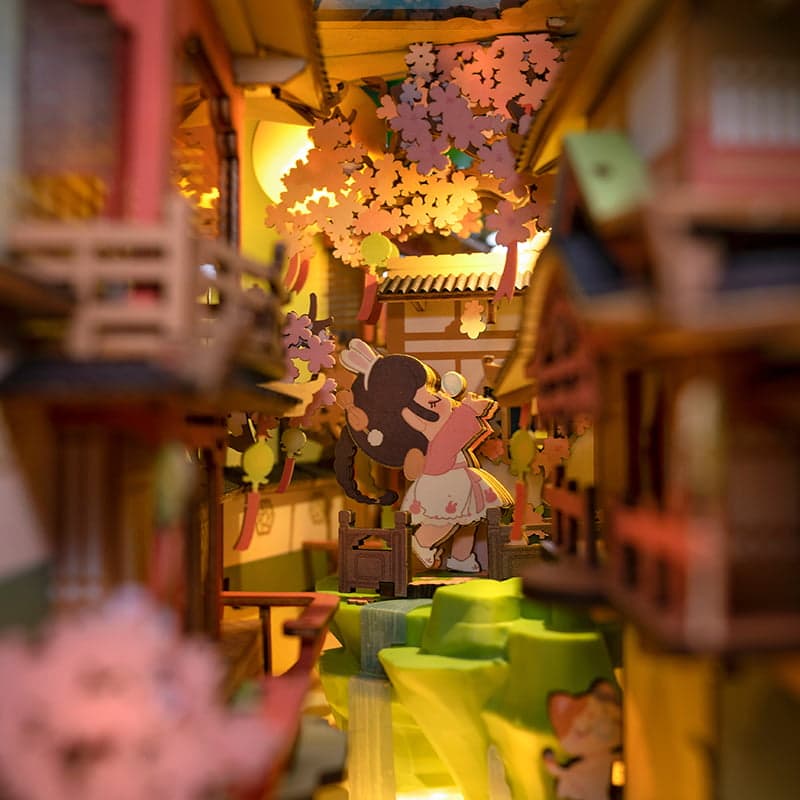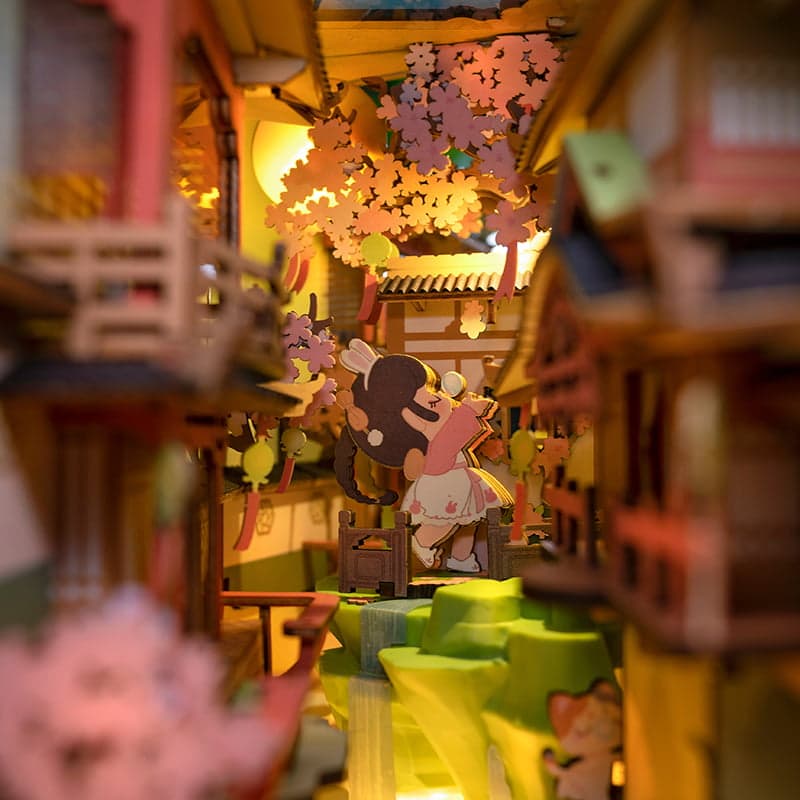 The auturm night is cool, and the girl Nancy walks slowly into the forest full of sakura. The girl is bathed in moonlight and looked a little holy. She is surrounded by layers of classical pavilions and gorgeous sakura. Nancy closed her eyes, probably thinking of her relatives, or savoring the girl's sorrows at this time. The scene is as beautiful as a painting.
The falling sakura DIY book nook shows such a scene. It is as if we could walk with Nancy into this vintage pavilion and enjoy the moonlight and sakura with her. Then all troubles will disappear, as if washed by moonlight. The book nook use yellow and pink as main colours, creating a cozy and comfortable scene.
The assembled book nook is delicate and pretty. It can be used as a decoration at home. At the same time, it is also practical.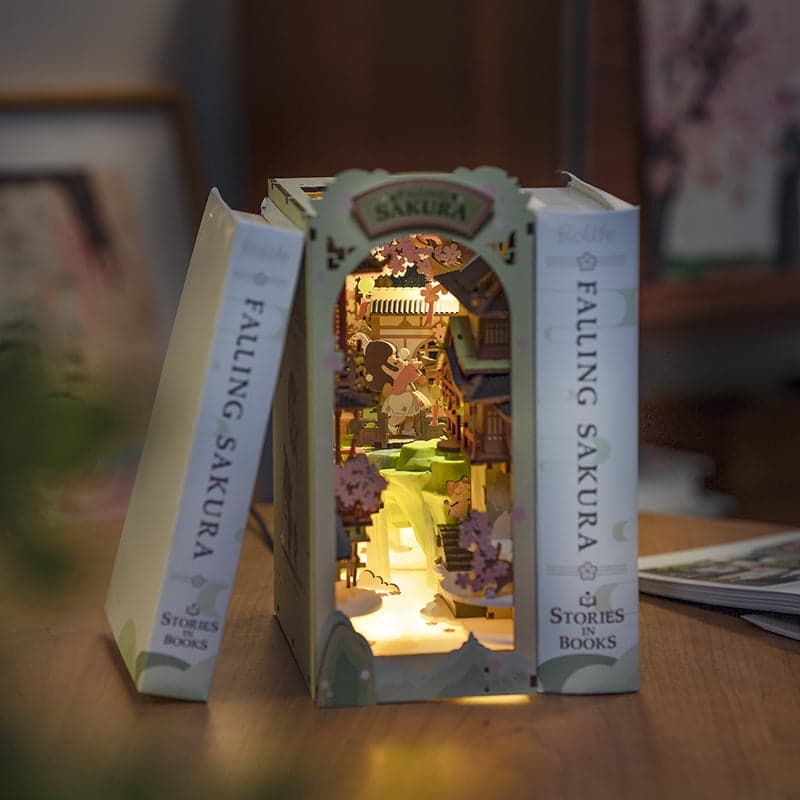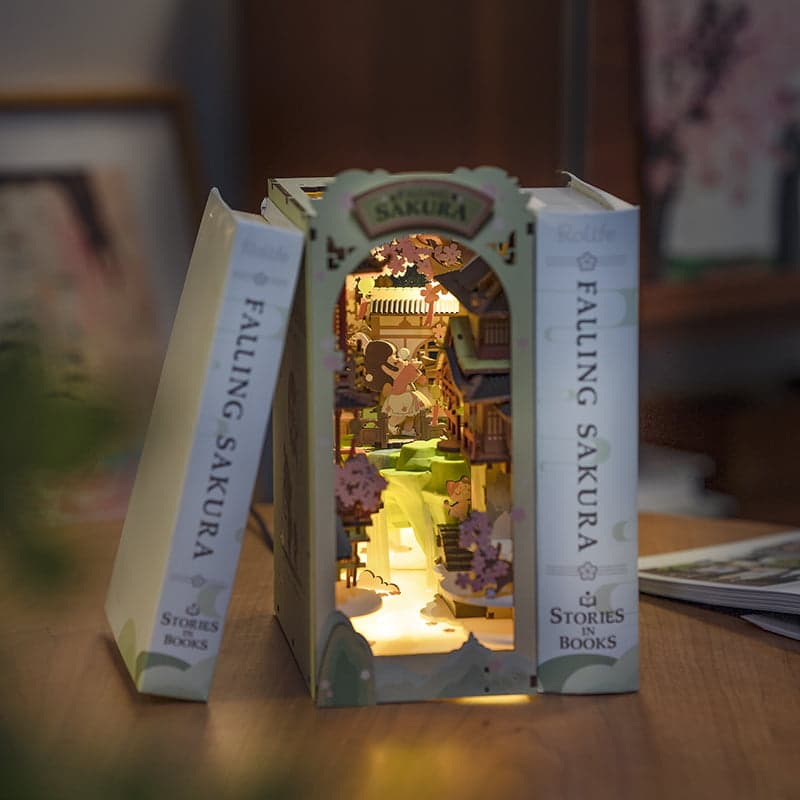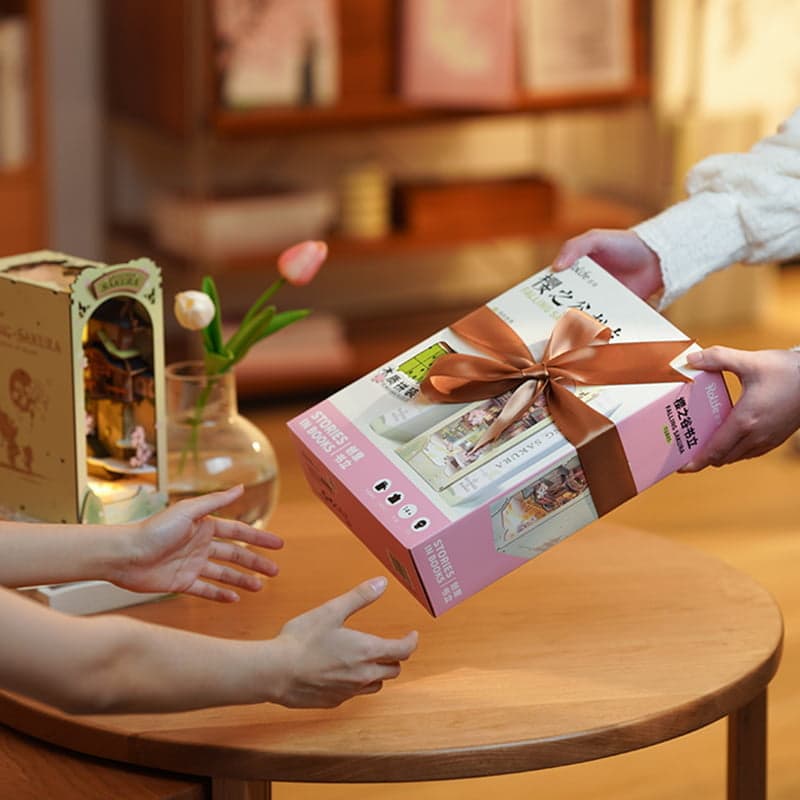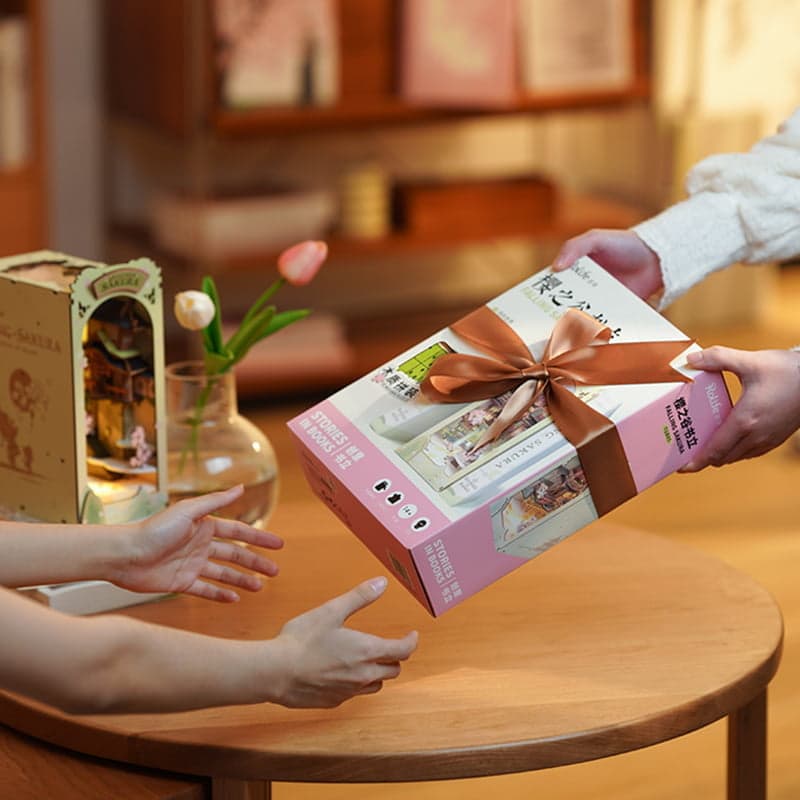 This DIY book nook is also a great gift. You can give it to your friends and families, and then you can spend a warm and fun afternoon together. The assembly process is simple but interesting.
It can be used as a decoration.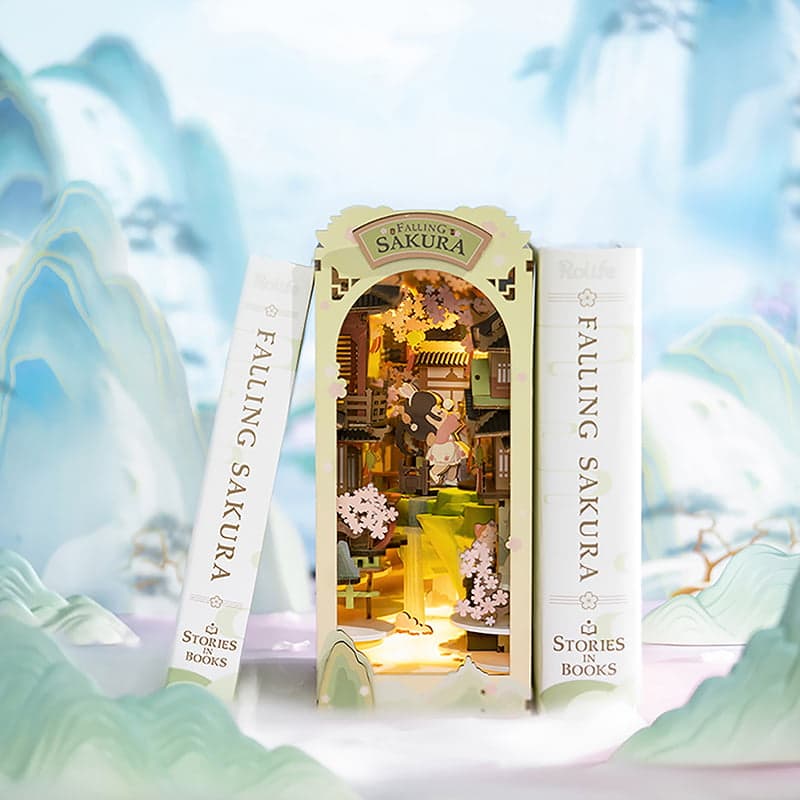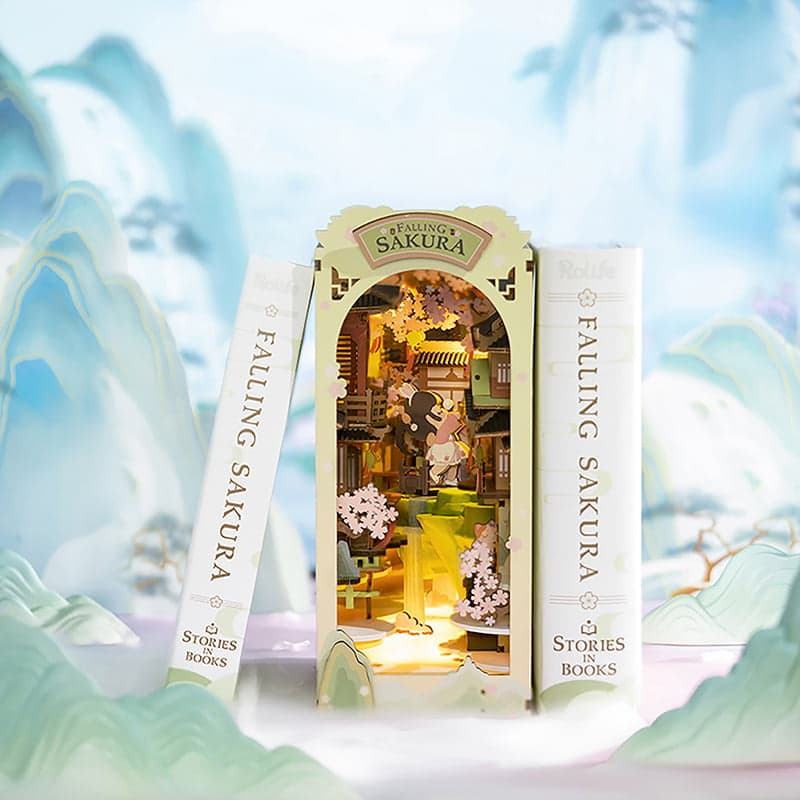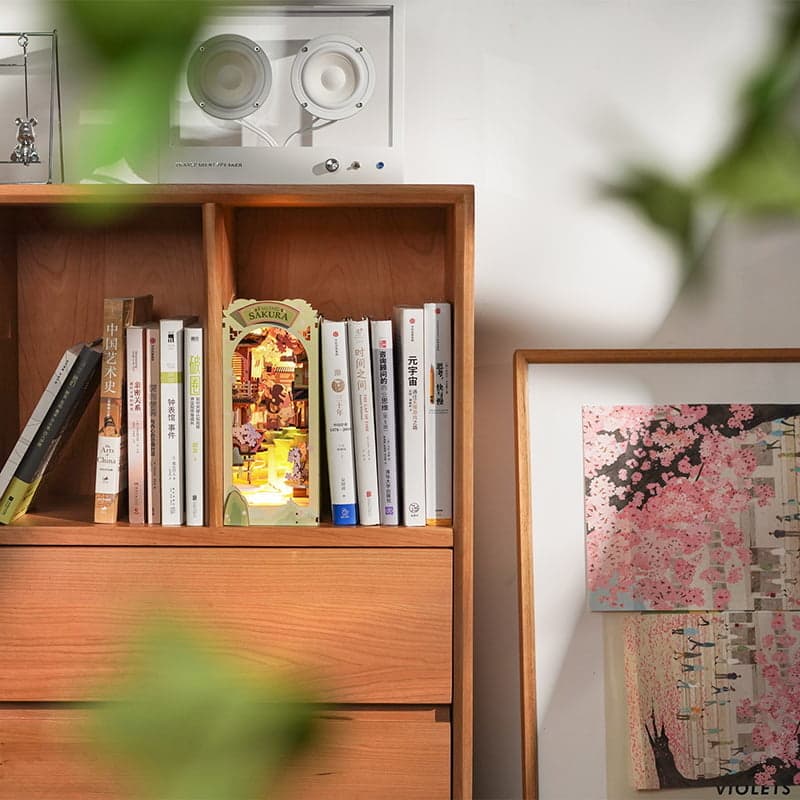 It can be used to separate different books.
The package includes important information, and please keep it well for future reference. Children must assemble under the guidance of adults in case of swallowing. Due to customs policy, glue, pigment, or battery may not be included in the package.
The material of the interior part is premium basswood, inden wood, density board, paper and acrylic. These materials are recyclable and eco-friendly. The classic mortise & tenon process and German laser cutting make it connected closer.