Rolife Magic House 3D Wooden DIY Miniature House Book Nook TGB03
Brand: Rolife
Age Range(Description) : Adult, Kids
Material: Wood, Accessories package, etc.
Theme:3D Wooden Puzzle Assembly
About this item
【Miniature Book Nook】Rolife Magic House 3D miniature book nook series wants to create a warm&fantacy coner for everyone, including 216pcs. They are designed with exquisite details into mini scale models.
【High-Quality Material and Intricate Design】This is a perfectly designed DIY kit that requires your hands-on work to complete, no glue needed. This 3D DIY house toy uses precision laser cutting of high- quality plywood. Safe and environmental friendly, no peculiar smell. 
【Ideal Gift and Fine Ornament】This is an amazing gift for any occasion. 
【Matters Needing Attention】Be careful to connect the parts in a complete and solid way to ensure that it runs well. Don't put it in a wet place.
Description


ORIGINAL BRAND AND PRODUCT Rolife adheres to the original research and development concept and focuses on the Play-Brand of DIY models. Rolife insists on speaking to the world trends with China design, following cute and independent spirit to express the life attitude of the contemporary Chinese youth and recreate the new Ecology of oriental art toy.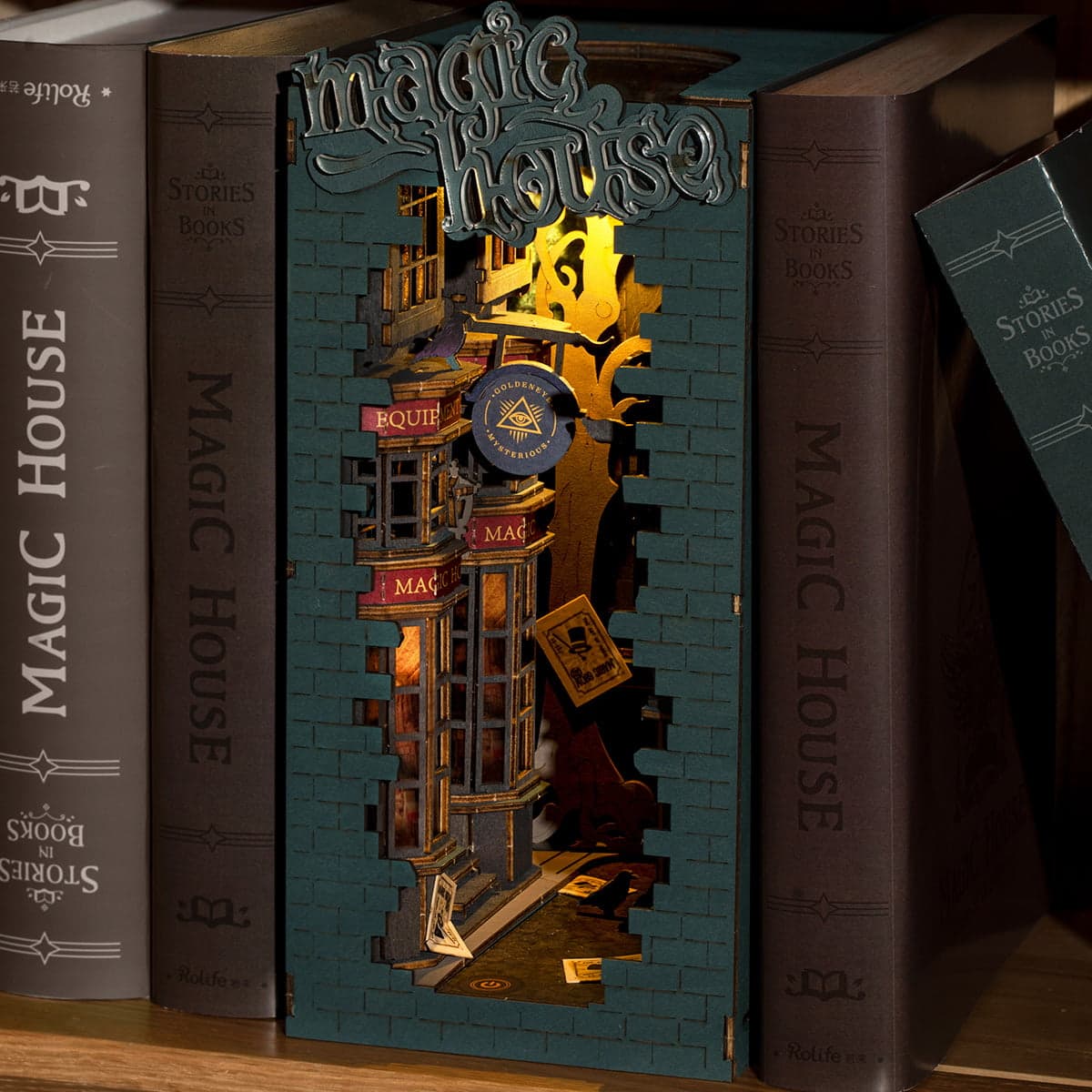 Rolife 3D magic house is a little mysterious alley. Myth has it that an ancient powerful magic book owned by a witch is hidden somewhere in this alley. Explore this tiny magic world and see if you can find the book or create something else. Welcome to the magic house, my master.
Craft art: The 100% high-grade plywood, perfect color matching, exquisite fretwork, storied buildings.
Package Dimensions: 310*46*230mm
Assembly Size: 18o*110*240mm
Items Included: Plywood,LED Light,Accessory Tools
The Average Assembly Time: 4H
Item Weight: 740g
Wood Pieces: 216pcs
Country of Origin: China
Manufacturer Recommended Age: 14 years and up
Manufacturer: Rolife